Benevolence to a street
The Table is a ministry,
where we simply bring food to one of our more difficult neighborhoods, set up an outdoor café, eat and talk, while seeking to be true friends with those who will have us. It is our place where we meet, serve, and maybe, Christ gathers some of us to teach an object lesson from the experience. It is our little sermon on the plane.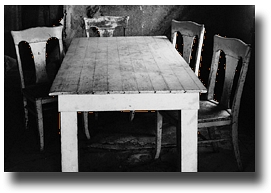 Special Note:
Okay, it's been years since we've updated this page. That does not mean that we haven't been active at Wahington & Chestnut Streets, just that we've been very preoccupied with the shelter. Tonight we begin again, serving food and friendship at Washington Street, since ending our shelter season.
Kind of fitting too, since the shelter was kind of birthed out of the Table. I'm remembering back several years, when a couple came to us with their 2 babies. Everything that they owned was piled on top of the stroller, after being evicted. Rodger was an ex-pastor, who years before fell upon economic disaster, and his wife Mariah was struggling with the faith by this point.
I remember them looking into my eyes, in want. There was an acute feeling of desperation and I intuitively knew that they were not looking for answers from me, but God. A wave of dread swept over me, feeling responsible to not fail them... I knew that if we left them where they were, we would be just another church who could not muster the ability to love them. I am also very aware of my own capabilities.
But we didn't have anything except the willingness to 'see' them. I remember a desperate prayer within myself during this dread, that was something like, 'Father, if you don't show up, this family will not make it." The only thing to do was not allow this to turn into a programmed response, and allow God's people to cooperatively respond to His voice from within this couple, and allow all of his intentions to roll out from within each of the unique personalities standing around that parking lot.
By the end of the evening, they had a temporary place to stay for a couple days only, and I had some networking to do to provide shelter, food, and transportation back to some family in Tennessee.
Well, God did show up (in spite of my worry). This little family was provided for out of the personal care within Christ's family.
Mariah phones every now and then. They are doing fine and are reestablished in God's safety. As I type this, I am looking at the candle on my mantle, that she had sent me. It has a picture on the glass, of Jesus walking on water.
I think of all that has happened since then, through this faithfully mundane little ministry, that lacks the administrative professionalism of slick corporate church ministry, so loved today within evangelicalism; everything from 'healthy' Christian folks that have left us after trying us on as a novelty; folks that can't see 'results' of people being 'good' as a result of their effort; people who saw this meal as an opportunity to buildup their own ministry portfolio; those who could not tolerate my refusal to hide my personal shortcomings and live hypocritically; and a host of evangelical churches calling us anything but children of God; I remember the mentally ill, the mentally handicapped, the addicted, those suffering trauma, poverty, homelessness, and yes... Rodger and Mariah; folks who have managed to remain faithful to us in the ways that they can, when 'good church folk' couldn't, and I know we are squarely within God's purpose, and life.
So, tonight we begin again, after taking time off for our shelter season where we served dinner every night, to serve our friends at Washington & Chestnut, at the Table. We are no better off economically today, than when we began, but tonight we might meet new friends like Rodger and Mariah.
I burn that candle every now and then, remembering their story, ours, and that Jesus walks on water.
May 19, 2010 ~Kork

Every Wednesday Evening

7:00 PM

Washington & Chestnut Streets

Pottstown, PA
Stuff from the past...
We have been on the street serving food for about 6 months now – The Table.
Since beginning we have made some wonderful friends, have been given an awesome responsibility toward our friends, took upon ourselves some very unique problems, and unfortunately some not so unique problems. Because the needs are so big, our elation is sweeter, when we see real changes appear. We have some good friends who are now parts of our everyday lives. This is heartbreaking sometimes – but a very good kind of heartbreak, when God appears in the midst of trouble.
I've asked some of our folks if they would write some thoughts about The Table. Here are their thoughts...
Over the past six months, we have not only seen death by physical nature, but by the spiritual nature as well. We have seen brokenness, hurt, humility, and life changing moments - all with God's hand in it. But perhaps the thing that hits us most, is seeing how God is molding all of us into the servants he wants us to be.
He has made great changes with the people involved in both the manna ministry [The Table] and the home churches.
Bill and Paul installed a water heater at a home in Pottstown that had no hot water for about two years. Both were stretched a bit, but more than willing to step out and do this. Paul has since been back to that home were he installed a valve for them. Bill and Paul have such incredibly blessed hands to do this type of work, and the best part is, they both have a willing attitude of worship to do this.
We remember when Bill had his car accident and through the medical treatment he received afterwards, he found out there was something wrong. While we don't recall exactly where it was, it was located somewhere near or on the brain. We all prayed for Bill. Later we found out that whatever it was, it was gone. Praise God!! God used this moment to show how gingerly his mighty hands can reach out and heal, but he also used this moment to reach Bill in a way that is extremely encouraging to us. Bill, don't give up the faith - God will answer your prayers - He will place you right where He wants you. Sometimes we look harder than we should because the answer God gives is not always a comforting one or one we will be satisfied with.
We had two individuals who have been incarcerated, whose lives are being turned around and being used for God. Only God knows the full impact of what their incarceration will have on their lives, but both are seeking Him and His will for their life. One has since come home, just in time to celebrate the Easter Holiday with loved ones. The other we are hoping and praying will be out just in time to celebrate Easter with his loved ones. [Editorial Note: He has since been released.

Click here to read his thoughts, and allow them to change you.] It will be exciting to see what God does in their lives.
Another friend of the Manna Ministry was hurt and taken to the hospital. She has been in a nursing home since. Talking with her and constantly guiding her in the Lord's way has been both tiring and encouraging. It has allowed me to find a balanced ground with being bold in speaking the truth, but by doing so in love and kindness. The Lord is pruning me in being honest in a loving way. That has always been a struggle with me, and now it is being overcome by God's graciousness. I find it coming more naturally - thank God!
And who can forget about the computers!!!! Only God knew what he was doing there and it is starting to come together. We will be sending laptops off to a church in Arizona who will be getting them completely operational for missionaries they have out in the field. Who ever thought that God would use a poor church like us to reach a huge church of 3000+ in Arizona with missionary needs we can supply? God is so good!
Then there is Luis who hooks us up with the computers from Dreager Medical. Having dinner with him and his wife was a lot of fun. He definitely connected with all of us and is looking forward to doing it again. He and his wife are great people and have a lot of potential for reaching others. We need to remember him and keep him in our prayers - we can just see God doing amazing things here!
Just last night, I was awe struck at how God was at work once again. It has not been the first time we have seen someone come off the street with an immense amount of hurt, nor will it be the last. But somehow, last night was different. While we were all out in the pouring rain underneath the pavilion, just mingling amongst each other, an older gentleman walked up and started talking with Steve. At first we were not aware of the conversation or even the magnitude of what was going on, but I remember looking up and seeing Steve just embracing this man while he cried on his shoulder. Just by the look on Steve's face, you could tell there was a lot of pain and hurt being released from the gentleman while Steve showed great compassion on him. He was there for this man and for whatever reason (that only God knows), this man connected with Steve. By watching Steve last night, you could tell this would change him and his heart forever. From going to being just the "soup guy" who was dropping it off, then staying, and now, being completely stretched out of his comfort zone - the whole thing has been very encouraging. We pray that God will continue to use Steve and that Steve will continue to allow God to use him for the sake of the kingdom.
The last six months have been both encouraging and tiring, but looking ahead is filled with anxiety and excitement. It will no doubt be tiring and exciting looking for a public place of worship, but be well worth it in the end. Word of mouth of who we are and what we are doing is spreading throughout the Pottstown area, especially in the ears of those poor and broken in spirit. To pull up on a Wednesday night and see a crowd of people eagerly awaiting your arrival tells you that this is not for nothing. Some grab food and go, looking only for food to eat, but many stay behind and talk with us, letting us into their life and seek spiritual food. We are so glad that God called us to be a part of this and we do not regret any of it - not even a little bit. We love you guys!!
Love,
Paul & Sherri
Hmmmmm....my thoughts..........................
...feeling badly that I haven't been out in a long, long time-busy with life and my family
...missing the people
...missing serving
...missing the blessing from serving
...wanting my whole family to come out again
...having the feeling that God is very pleased with this ministry
...realizing that it really bugs me when people aren't thankful
...realizing that just because I don't think someone isn't thankful doesn't mean they aren't
...realizing that I can't make people thankful, and just because they may not be thankful today, doesn't mean that they may not be thankful tomorrow.
...realizing that the reason I am so bugged about thankfulness is because that is what the majority of my prayer time is focused on...which made me realize I have other areas that I need to focus on during my prayer time.
... realizing that all this stuff that I've realized = spiritual growth...and that is a good!

...excited that friends I tell about the Manna Ministry want to know more about it and are interested in helping.
...thinking back about turkeys falling from the sky
...thinking back about computers falling from the sky
...thinking back about Jerry...his warm smile and friendly eyes
...remembering being afraid to stand on the corner
...not being afraid any more
...learning to love the unlovely

~Sherry
My thoughts:
It's hard to believe that six months have gone by! In some ways it seems as though we have known many of those who attend "the Table" for years on end, and yet, there are those we are only just getting to know. The past few months have been very different than what I expected.
You see, many years ago when I entered this ministry, the majority of those we fed were children. That's easy. The struggle we encountered was how to reach their parents. Now it's just the opposite. The area has changed, people have moved out or over a few blocks and the children we once played with are all grown, some with families of their own, and still struggling. The majority of the people we see now are adults, many with mental health issues.
This is very challenging. It requires more of me than I ever thought possible. Kids are easy to love and pay attention to. Most of the time, they welcomed and craved the attention because they didn't receive it at home. Now I see some with hardened faces, some so hurt they silently shout "I'm not letting you in" and have walls higher than they are tall! As we stand on the street corner is not always easy to talk to people and get under the surface as it's a flurry of activity. Many just grab the food and go, which is okay, but it leads me to believe that they are the ones we should be reaching toward more. There are people whose names I don't even know yet, and find it hard to break away from serving to talk to them. Don't get me wrong, I love to serve, but when I see the hurting and downtrodden expressions on their faces, I want to get to know them and draw them into our "family".
I know that the LORD has good things in store for them.... joy, peace, healing, safety, etc. We have seen it first hand in a few already.
I am amazed at the number of people we are having come out on a weekly basis. The area is not the best of neighborhoods, and many stay indoors due to fear of what's out there. And it's still cold at night! I am sure the numbers will rise as the weather warms and daylight extends. I hope and pray the next six months will be as fruitful as the first, and more.
Missy
This is an email I sent out Saturday, October 9th.
As you all know, there are some very special people that have become our friends on the streets in Pottstown.
You all know Jerry and how he is wanting to be "close to God," and how he "loves God." He has made some significant strides since getting out of jail. Francis and Howard have invited us to have church at their apartment on Monday evenings, and Jerry wanted to be involved with the church at our house, and the church at Franny & Howard's. He was that enthusiastic about knowing God and joining with us as family.
I just got word from Franny, that Jerry had a fatal heart attack last night. He was trying to press into God just as evidenced by the way he brought "Cat" out to meet us last week, and how he took care of her - seeing her home safely, and tell about his concern for her to "come to God." He was not ashamed of talking about Jesus.
I am shocked, and my heart is heavy. I am remembering our last conversation and how close we felt toward each other. We just connected, and our last words to each other were "I love you my brother," giving each other a hug.
Bill, Sherri and I had discussed his salvation and how much he wanted to know God. I fully expect to meet him again.
Until then, I will really miss him. In just the short time that I knew him, he had really affected me. He wanted to see others grow close to God too - like Nancy, Melvin, Howard, Franny, Cat, and I'm sure we will hear about others, as the story unfolds.
I'll keep you all posted as I get more information.
In the meantime, please pray and look to God for where He is working through this. There will be talk on the street, and we had seen so much redemption through terrible things like this. I think that God will use this (and is using this) if we will only open our spiritual eyes to see what He is doing, and join Him as He works.
In the meantime we will mourn with those who mourn... (Romans 12, verse 15)
Peace,
Kork
Jerry was a man that had been coming out on Wednesday evenings to eat with us on the street. He was a tired guy who had been through a lot.
He had been told by different churches, that he was not good enough for God. Jerry kind of gave up on church and himself. He told me he was trying to do the best he can and he just existed, since getting out of jail a couple of weeks ago. We had numerous conversations about the Society, or Country of God (the kingdom of God), and how we enter it now; conversations about who Jesus chose to be with, and why; conversations about how we are to treat each other within the family of God – I guess I'm talking about vulnerability and acceptance. Each week we saw him happier, and each week he was telling us more, and more, about those he was helping.
On Wednesday evening the 6th, Jerry brought a woman to us who was very drunk and could not take care of herself. Her husband is crippled. Jerry was ensuring that she got food. He told me that "she needs to know you people – she needs Jesus!" Jerry took care of her that evening practically feeding her.
We stood in a circle to pray around the table, and when we were finished, this woman continued to pray, snapping us all back into God's presence. We joined her again. The prayer was a lament, a beckoning, a prayer of hurt, of longing, simple and profound. I could not help but cry within myself. As she finished, and without being able to hold her head up, the drool just continued to run out of her mouth as if she didn't notice. Jerry, seeming embarrassed for her, grabbed napkins and gently began wiping her mouth.
I cannot tell you what I felt. Here is a man that, only weeks ago was just existing, now with joy, being selfless and seemed completely Christ-like. I allowed myself to run ahead in my mind with the possibilities of what God would do with this new man.
Jerry died on Friday, October 8th and I'm missing him. He was a good friend whom I love.
But his death (because of his new life and change of heart) has had the most profound impact on me, this neighborhood, and beyond. I cannot tell you how many people I have heard from, that either knew Jerry and are now changed (or changing) because of him, and those who have only heard his story, and how God is awakening them to a different perspective.
Please read the following. They are responses to my email and illustrate in some way how Jerry's story; his life, and death are used by God. The last letter is a continuation from our last newsletter as our story continues. . .
-----Original Message-----
From: xxxxxxxxxx
To: korkmoyer
Subject: RE: Jerry
Kork,
My prayers are with you and with those whom Jerry's life and death are influencing for God. Praise the Lord! The purpose of his life is just now beginning to unfold.
xxxx xxxxxx
-----Original Message-----
From: xxxxxxxxxxxxxx
To: korkmoyer
Subject: RE: Some Sad News
Dear Kork ...
I was so sorry to hear about Jerry. I prayed my way through your email, and am trusting God with you to draw others to Himself through this, and comfort those who knew him.
In His love,
xxxxx xxxxxxxxx
-----Original Message-----
From: xxxxxxxxxx
To: korkmoyer
Subject: RE: Some Sad News
Kork,
I am very saddened about Jerry death. May God use you mightily to encourage this family. What an opportunity to reach out with the gospel. Even in death...God's truth has an impact.
Your friend-
xxx
-----Original Message-----
From: xxxxxxx
Sent: Tuesday, October 14, 2004
To: korkmoyer
Subject: Re: Newsletter Thoughts...?
Hi Kork,
Sorry I didn't reply earlier this. It was great being able to spend time together on Sunday.
I was moved by what xxx shared during the service on Sunday regarding Jerry . . . I think it hit me on a few levels. First, the obvious implication of sharing Jesus with those who are lost is awesome. These are people whom Jesus loves yet (in many ways) the world has discarded. Being able to stand among them and minister to their needs is definitely "doing for Jesus what you do for them" and so in that sense the work (as an act of faith and obedience) is both exciting and urgent.
The second way in which xxx's testimony touched me was – as I mentioned at xxxxxx's – the way that God performs miracles among us each day in changing us incrementally. We do see that amazing overnight transformations occur and we are quick to give God the credit for those. But I see miracles in the way that people's lives are gradually and patiently changed through obedience to Christ, and those miracles can provide even more fruit and more testimony than the "overnight sensations." I think that is the type of fruit that your ministry is going to experience – sure, you may see the "fall down and accept Jesus as Lord" type of thing – but more often (and effectively) you will experience the "I want more of this Jesus" attitude from people as you show them Jesus in person. You will have people being touched gradually and patiently through the reflection of Christ that you are able to show. That is also extremely exciting.
The third way that I was touched by what xxx shared – as well as through recent experience, prayer, and meditation – was this. How do we as followers of Christ share this Jesus with other believers? I think that we are much more apt to show the virtues of love to the visibly lost than to those among us who believe in Christ but are maybe not pursuing Jesus with the same fervency that we do. I think that we need to be as patient with one another as we are with the lost, but we often fall short in that area. I know I do – how about you? We need to treat one another just as we would a stranger in some respects, understanding that through our patient kindness and sharing of the way of Jesus, that the lives of those around us will be miraculously changed. God actually gives us opportunities to participate in His miracles when we passionately obey Him. So that part is the challenge – can we as believers get to that point with other believers that we seek to be with the lost?
I could write more, but I need to get moving. I hope you are having a great week brother. I look forward to seeing you again soon.
Love,
xxx
-----Original Message-----
From: xxxxxxx
Sent: Tuesday, October 12, 2004
To: korkmoyer
Subject: Re: Newsletter Thoughts...?
Kork,

What a difference a Month makes. (Having moved off the tailgate of your truck, to actually serving and interacting with the people of Pottstown). Wednesday nights are now something I look forward to. The people I have met are great! You can look at these folks and see the wear and tear their Life brings. Some adults are still full of laughter talking about your first ministry there. Others are bent and slow moving speaking, less loud about their love of God and how their relationship with Him is up and down, on and off etc. The children just light the place up.

There is one person who has made the most impact on me and whom I will never forget. His name is Jerry.
The first time I saw him he was walking so slow he was dragging his feet. He was dressed in his Mascaro uniform. He was loaded. He smiled as he walked by the table. When he caught the scent of the potato and garlic soup, He said he just had to have some. He told us he was drinking and that he knew he reeked. He told me he was from Atlanta, Georgia. A place he loved. He moved to Pottstown for the love of a woman. He was not happy here. He left to eat his meal, only to return 2 hours later at a full gallop for seconds on the soup. He was too late, the soup was gone. We told him to come earlier next time. From that time on it seemed like he was always there before we were. It also seemed to me that his whole disposition changed he was always smiling talking to everyone. I watched as he gently asked my wife her name. The last night I saw Jerry he brought Cat over some food, he took a bag of food to "A crippled guy around the corner," and he took something to Melvin who was not feeling good. What a change. From self pity to total concern for others. I don't know of any other conversations you had with him other than the "Alley meeting," but there was definitely a change in that mans'
heart. You could see it in his face, eyes and in his demeanor.

Looking back I wish I knew that was the last time I was going to see him. [My wife] filled those bags for him that night I kind of watched him marveling at his good humor. I almost said something to him about his chipper mood but I did not. I regret it now. I hope and Pray that I will not withhold kind words to anyone. I really understand now that it is not about soup and sandwiches. It's about touching each others' lives and caring about people. I wish you would share with us the time you spent with him. You have got a cool ministry. Thanks for letting me and my family in on it . . .


See Ya xxx
Even after death, the heart of a life touched by God resonates with strangers, and the loved ones they leave behind. Until we see Jerry again, the effects of his changed heart, continues to give us hope. We love him and will miss him until our reunion.
God bless you.
Kork
"If you have done this to the least one of these, my brothers, you have done it to me." Jesus Christ
A STORY
Where We Have Been
The challenges that we had faced in 1997 we would never have expected, nor would we have thought that we would have been prepared for, as Christ's representatives. And the obstacles that we had thought we would face had not occurred. That year, we experienced both death and life; both loss and gain; bad and good; cursing and blessings – and the Lord had proved faithful through it all.
From the perspective of those we served, very little seemed special. We would arrive at Washington & Chestnut Streets between and every Wednesday evening. The folding tables were arranged – food and drink placed on them. The groceries were readied and everyone was assembled for prayer. After, we would become inundated with adults and children looking to be fed. It would, more often than not, become a tempest of activity. Oh, for a moment to think.
As we had told our Church leadership at the time, we had felt the direction to become more vocal with regard to our faith. Prior to this we believed that we needed to establish ourselves as "credible;" not looking to condemn those that we served, or to manipulate them into the "Kingdom" with a false concern for their spiritual condition. But rather, "showing them our religion by what we do." (Jas. 2:18) Thanks be to God, because He had opened the eyes of the blind and had opened some ears so that they might hear. He truly had been at work on the streets of Pottstown that year.
With our natural perception, we had thought this new focus might be viewed as condescending and offensive. We believed that we would find opposition because of our zeal to press-in. Quite the contrary! It had only led to some very real dialog weekly. We truly saw God eliminate any appearance of "playing church." Most who came felt very comfortable expressing their needs, both physical and spiritual. This had been most pleasant and unexpected. It had been thrilling to stand openly with them and point to the Way, even within some very energetic and difficult conversations. This is not to imply in any way that we were received and liked by everyone.
We have seen individuals exhibiting very evil spirits – if not down right demonized – giving into the abase-ness of their very own fallen natures. One of these individuals would try to discredit our work; discrediting us by identifying himself with us, and vying for attention by performing very loudly as a preacher although in a drunken stupor. Much like the slave-girl who discredited Paul and Silas by association while in Philippi. (Acts 16) In later days it had been reported to us that he had been found dead in a van that he had been living in. Curiously enough he was known as "Pig".
We had also lost another "regular" to death. He was known as "Buddy" and he truly was ours. Buddy was very old and worked up to the moment of his death for the local "slum lord" and for precious little money. Buddy was very small and very unimpressive. Drunk most of the time, he was "just trying to get along." But you must not view Buddy buy outward appearance. Buddy is not a character in a story and this life that he had come to is not indicative of his whole life. You see, Buddy had been a highly decorated "War Hero." At some point in his life he had fallen, and this, I have learned, can happen quite suddenly to anyone!
Buddy's death shook us because we had no assurance of his destiny after this life and had every reason to believe it was not well with him. Buddy was our friend and I believed this to be a personal failing of ours. We had made an announcement during the prayer circle the following Wednesday evening and apologized for not taking the Great Commission more seriously. We asked them the question, "why were we here with them?" and received varying responses from, "to promote brotherhood," to "helping others."
At that we publicly repented to them, confessing our failing, and told them the gospel message of the kingdom, urging them on to Jesus. That seemed to be a major turning point. Afterward, much light came forth from much darkness. It seems as though some kind of battle line had been drawn!
Truly, there seemed to be very little middle ground any more. The darkness had become increasingly "very dark," while the light became "very bright". Of course, on the surface there remained the appearance of the former (because these people had a lot of "past" to overcome) but it was glorious to see them quite innocent as children. It seemed as though the greatest light came forth from the greatest darkness, and out of the most terrible and veil circumstances.
Several individuals, that year moved from emptiness to trust in our Lord, while a few others seem to be reestablishing themselves within the community of faith; and still there are those who were on the fringe testing the water quite obviously with and open ear. With this new found freedom to be extremely verbal, each week held new questions and dialog about spiritual and natural matters. The Father was honored as He broke down walls before our eyes; and He also blessed us by allowing us to witnesses these folks as He worked for their good; codling them in their infancy. The van was running, collecting them for Sunday service.
So it was in the year 1997.
...and Where We Are Going
Our aim is to set tables of food on the street again.
Setting food and cloths on a street corner/parking lot in a less fortunate neighborhood, loving people into small groups - the Church; helping individuals in their journey, as they discover their place in God's kingdom, and ministry gifting.
This is loving God.
To help us finacially with this ministry, please
click here
.
Copyright © 2004-2020 besidestillwaters.net. All rights reserved.