Still Waters has now established a Guidance Board of people who have grown to love this work and the poor of Pottstown.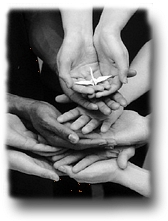 We have been given a wonderful opportunity to serve Christ and his people – and more than this; to be a light on a hill – a lighthouse to those far off from God. That is a huge responsibility.
Part of that responsibility is to work together, each one exercising his and her own God given gifts. If we work separately, we show a skewed concept of God to those we minister to. If one person is the ministry, the church – the community of God is not seen. Practically, there are far too many decisions to be made, and too much work to do if delegated to only one person. If all the colors are not represented, light looses its brilliance and becomes dull.
The board is a first step of implementing our founding documents – our Constitution, if you will. This Board is a very broad group – very diverse, and it would be wonderful to see it grow larger in number and responsibility, expressing more ministry, representative of our God, who loves, and wants all people reconciled to himself.
We will keep you updated as we grow.
Still Waters has been accepted as a Northern Atlantic Fellowship (NAF) Church of the Fellowship of Grace Brethren Churches (FGBC)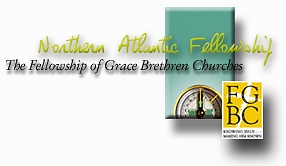 At our annual NAF conference, held at New Beginnings Church in Myerstown, PA on March 13th, Still Waters was officially accepted into the NAF. This is a relief to me personally because we are on such a very tight time schedule this year administratively.
Most importantly, it is imperative that we are within the safety of the larger "Body" where there is safety. These are wonderful people who have meant a lot to us and continue to pour into us God's blessings in all too many ways to name.
Folks like:
Pastor Kenn Cosgrove, whom is a theological mentor and friend;

Jim Snavely, from Grace Brethren North American Missions, who is a constant encouragement to me, and seems to have the right words when I'm feeling overwhelmed;

Professor/Pastor Mark Norris, who is the one person on the planet whom I can say anything dumb, controversial, shallow, or dive headlong into the deeper meanings of life in God, both theologically, philosophically, and historically – he is a wonderful friend and mentor whom I miss terribly since his move to Grace Collage;

the guys on the NAF Executive Committee who took a chance on me to be their Networking Coordinator – and thus helping my family to plant Still Waters;

Pastor Bob Greenwood, whom I highly respect, and whose guidance is arrow straight – he is someone that I don't need to over-explain our work within the grittier side of ministry because of his expertise in prison ministry, and the extraordinary places God has taken him throughout his life;

the men of the Northern Atlantic Missions (NAM) who have been a great source of help and comfort, and without whom Still Waters would not exist;

and everyone who continues to keep us in prayer throughout the NAF.
Each one of these people will probably scold me for mentioning them – that's just how selfless they are – but they are only some of the people connected with the NAF that have been there to lift our spirits when we were running on empty, confused and scared.
They are men that I love, and who love our church.



I have completed my trendier with Exelon Corporation

Well, it's official, I have submitted my resignation to Exelon Corporation on March 23, and will complete my work with the Licensing Group on April 6th. This has been a very difficult transition for me and my family. First, I needed to leave the company well, as the urgency of the ministry needs in Pottstown, increased. I don't mean to say that I am in any way indispensable to Exelon, but turning my position over to a severely shorthanded department was difficult. These are some of the best quality people I know, who have done a lot for me and my family. I surely did not want to leave them creating a burden, and additional problems, for an already understaffed group. I had agreed to continue on seeing my last project through to completion.
It is my hope that in the future, I will still be able to be a kind of blessing to them ongoing in whatever way God might lead me, and as part of my departure, the national Exelon Corporate publications would like to interview me with regard to our church, our ministries and the vision that we are endeavoring to birth here in Pottstown. These will be distributed company wide, from the
Jersey
shore to the mid-west. It is our hope the Christ will be seen in our efforts, and not us.
Copyright © 2004-2020 besidestillwaters.net. All rights reserved.