mission possible
Despite an overall church attendance decline, a quarter of all local churches in the US grew by more than sixty percent during the late 1990s and early 2000s, as well as finding effective means of reaching people - some of these churches planted new congregations. They meet in secular buildings such as schools, community centers, bars and clubs. Many of these church plants pioneered new models of leadership, new styles of worship and discovered a missional dynamic in their endeavors. This movement has grown across most denominations. Church plants are happening in all sorts of social and geographical settings - urban, suburban and rural. In villages, the planting may be on a very small scale, or even re-planting. In one community the small Methodist and Anglican congregations closed both their buildings and re-planted into a school. They described their project as repotting. Some church plants begin from a position of strength. They are initiated by large congregations and may have teams of more than twenty people. Others describe their experience as planting from weakness. Such is the Pottstown church plant of still waters.
Within our focus group, home church and street ministry will be very powerful tools for reaching out and connecting with people relationally. Becoming involved in their lives, and inviting them into our lives is how we model Christ before them; showing them our values. We intend to set a picnic (food) for them in their neighborhood(s), provide childrens ministry items and invite them to small groups.
We intend to help individuals to understand their bent for ministry and worship by targeted teaching within their own homes, to help them to build foundations and convictions toward godly living that is useful to the Father as they exercise their hopeful new found zeal within their own circles of influence. We intend to give them avenues to reach out to their friends, family, and neighbors through the home church structure by invitation.
Through 'life leading' (discipleship), the congregation will be given avenues to reach out to their friends, family, and neighbors with the Gospel of Christ.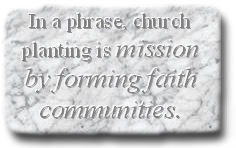 the mission
field around us
Like it or not, the church in the United States, and throughout the rest of western culture, is in a classic missionary situation. In the US, most people are no longer practicing Christians, although very spiritual. In the 1990,s church attendance dropped by half a million people. Our society's values were once based on Christian principles.
Now our diverse and rapidly changing culture offers a wide variety of competing value systems. Throughout the nation there are neighborhoods where there has been little contact with the church, in some cases for generations, and where the gospel has had minimal impact. This is equally true of many other social, cultural and ethnic groups. This has led, and challenged us to find new ways of being church. In response, many of the main denominations designated the 2000's as the 'Decade for Evangelism.'